Pick up a Beer or Bucha Tote full of tasty local treats and bid on a series of custom Art Growlers created by 23 amazing Crawl artists!
The 6th Annual Art, Bike & Beer Crawl Fundraiser helps support the Eastside Arts Society's initiatives promoting local arts and culture through community engagement This event pairs two of the best things about our neighbourhood – art and beer – in a fun event that connects Eastside art and beer lovers in our community!
1. BEER TOTE PACK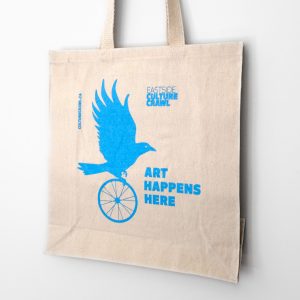 Pick up a delicious swag bag of tasty local treats and a DIY tour map of some of East Vancouver's amazing public art & unique studio buildings! Support the Crawl, take home a tote of beer or kombucha, and take yourself on a cycling or walking tour of some amazing local art and culture sites in this exceptional, storied neighbourhood.
BEER TOTES: $50 each (19+ item only)
BUCHA TOTES: $25 each
 (all-ages, non-alcoholic)
*All tote buyers will be entered into a draw to win some amazing raffle prizes from our partners at Bowen eBikes, East Van Bees and Herschel Supply Company!*
**Tote buyers can also elect to receive a charitable tax receipt**
A huge thank you to our generous sponsors:
Andina Brewing
Bomber Brewing
Container Brewing
East Van Brewing
 Luppolo Brewing
Off The Rail Brewing
Parallel 49 Brewing
Red Truck Brewing
Storm Brewing
Strange Fellows Brewing
Bucha Brew
Bowen eBikes
Earnest Ice Cream
East Van Bees
Hardbite Chips
Herschel Supply Company
The Hive Printing
 Uprising Bakery
2. ART GROWLERS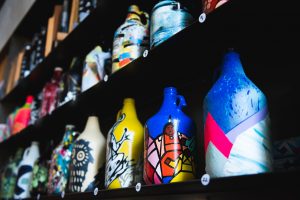 In celebration of 25 years of the Eastside Culture Crawl, we are auctioning off a series of custom, original Art Growlers created by 23 amazing Crawl artists!
Art Growlers will be available for viewing at Strange Fellows Brewing 1345 Clark Drive during their hours of operation.
A huge thank you to our participating artists for generously donating their works:
Nadia Baker
Deborah Bakos
Paula Barrantes
Donn Bennett
Carley Bjorgum
Christine Breakell-Lee
Thompson Brennan
Niina Chebry
Maggie Chow
Dana Cromie
Lynna Goldhar Smith
Anyuta Gusakova
Kayan Hamadeh
Mat Holmstrom
Carylann Loeppky
Tana Lynn
Kate MacDonald
Maria Schumacher
John Steil
Richard Tetrault
Jerry Whitehead
Arleigh Wood
and a Mystery Artist!
The Eastside Arts Crawl Society is a registered charity #872741202RR0001